Why You Should Consider Puglia
Puglia is Italy's stiletto heel. It's not far from Albania or from Greece's formerly-British island colony of Corfù where many residents speak both English and Greek in addition to some Italian. This proximity creates an interesting blend of foods and cultures, though the two could easily be combined. Because Puglia is the very south of Italy it shares a lot of characteristics with its surrounding regions including: a relaxed pace of life, high-quality farm-to-table food, an ample amount of space for property, the famous Mediterranean climate, a reasonable cost of living and many many miles of coastline that provide it with a wide variety of fish and other seafood, not to mention that it's an area that's been inhabited for more than 10,000 years, so there is really a lot to see and do.
Where to Live in Puglia
This largely comes down to the lifestyle that you wish to adopt after retirement. Do you want to lounge by the sea? Or, do you prefer hiking through the mountains or taking leisurely walks through the woods? Perhaps just an afternoon in the park?
There are several cities that stand out in the region for those looking for a more social lifestyle that means going out for a drink in the evenings, watching the sun set and staying out long after it's gone. A few standouts are: Lecce, Polignano a Mare, and Martina Franca.
Lecce: Puglia's grand dame, its cultural capital. It's impossible not to love this city, with all of its baroque embellishments. Buildings here are made of local limestone and full of ornate carvings that lends the city a warm sense of joy.
Polignano a Mare is called the "Pearl of the Adriatic." It is full of white-washed buildings reminiscent of sugar cubes that clash against its coastline. Like Lecce, it's rich in limestone architecture that artisan shops and cafes speckled along its streets make excellent use of.
Martina Franca is the largest town of the Valle d'Itria. It is a town split in two, Old and New, by baroque style gates that, in the past, protected the city.
As far as places to visit, Otranto, with its famous castle—itself the subject of a famous gothic novel, The Castle of Otranto—is a must-see.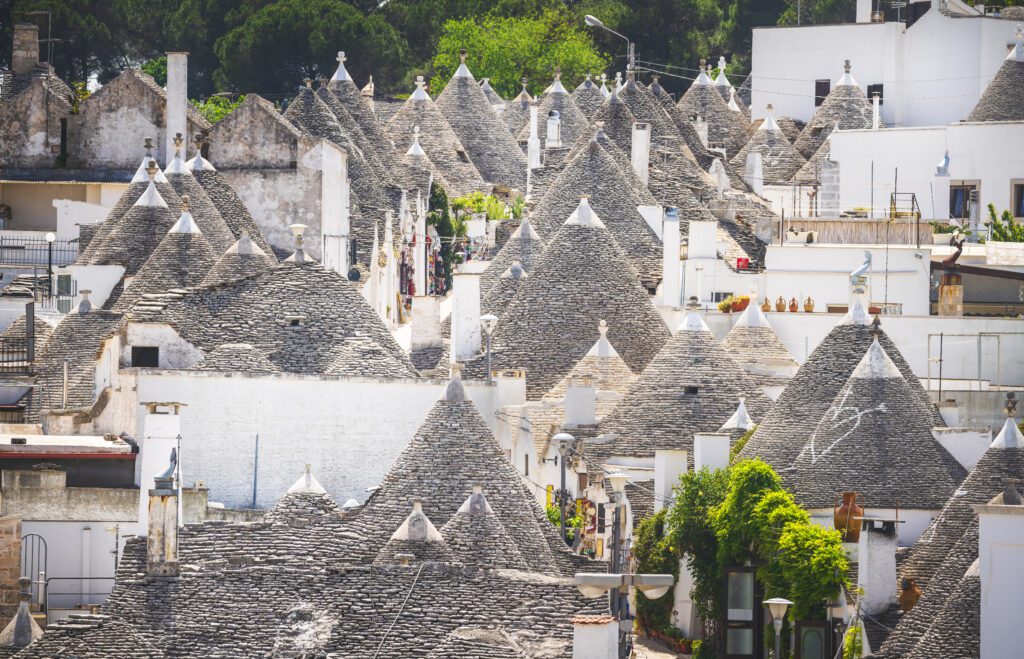 The Lifestyle in Puglia
Like much of Italy's southern regions, life in Puglia is fairly relaxed—extremely relaxed when compared to Lombardy, where Milan is located. It's routine to take extended lunches followed by a riposo, a short rest (sort of like a siesta), just sitting and watching people walk by, or even taking a stroll through the historic streets. It's a place where people still place a major emphasis on family, friends and experience all over wealth or displays of wealth.
The standards for food are incredibly high. If you wander through a morning market you're likely to find only vegetables that were just pulled from the ground, freshly picked fruits and nuts, and fish that's practically caught before your eyes. Pasta is still made by hand and it's almost a blasphemy to purchase mass-produced pasta from the supermarket.
If you are interested in farming, Puglia produces about 40% of Italy's olive oil and the region has excellent soil and an abundance of trees on many properties; it's not uncommon for families to produce and use their own oil throughout the year, each with its own distinct flavor (and families often comparing their oil to others). If that's not your style then you might prefer growing grapes and producing some wine instead, for which the soil is also excellent.
It's not all upside though. Your biggest barrier will be learning the language—if you don't speak it already—as the chances of running into an Italian who speaks English tend to decrease as you travel farther south. The positive side of this is that the locals are friendly and helpful and you'll each find a way to make yourself understood.
Property in Puglia
The properties currently run cheap due to problems with underpopulation and most of the opportunities (outside of tourism) for work being concentrated in major cities like Rome, Florence and Milan.
If you wish to rent a property, you can often find apartments in the city center for under €1,000 per month. This price can drop significantly depending how far outside of the center you decide to look. Outside of the center, you can expect to pay €500-600 per month, sometimes even less.
On the other hand, purchasing a property confers a number of benefits, because, in Italy, if you own a property it becomes much easier to acquire residency whereas if you simply plan to rent a place you must produce a number of other documents related to how you will afford it. Additionally, purchasing a property is better in the long term as your mortgage payment—if you opt for one—will likely be lower or the same as the price of renting. This is much easier to do in the south of Italy than the north, however.
If the city isn't your style, you can run off to the countryside where you can find extravagant villas and single-family homes, with all the space they afford, for very reasonable prices. These homes might be in need of some renovation or modernization, but who can resist an Italian villa? They tend to range from €50,000-200,000 based on condition of course. You might even find a masseria (farmhouse), for sale though those run upwards of €1,000,000 but are excellent locations for events like weddings given that they also come with large tracts of land, generally grapes or olive trees.
Taxes in Puglia
Like the rest of Italy, there is a standardized tax system that taxes residents and citizens based proportionately on the amount of income. This usually runs as follows:
23% for amounts up to $36,000;
33% for the next band from $36,001 to $39,300;
39% for amounts between $39,301 and $119,200;
45% for amounts $119,201 and over.
However, those retiring to the region will find a number of benefits regarding their residency and purchasing housing. Since you are retiring to Italy, and presumably obtaining a property, there is a flat tax of 7% on foreign pensions, a far lower rate than any other bracket. That 7% applies to both public and private pensions regardless of whether you are an Italian citizen or not.
With all of this in mind, Puglia is an excellent region for retiring to Italy, though you would have a difficult time trying to find an area that isn't picturesque throughout the country.
If you would like to learn more about this topic, please read our related articles such as, Italy 7% flat tax for pensioners, Pension contributions paid abroad: purchase or totalization, Are US pensions taxed in Italy? Our 2020'S Guide and Why Italy is your next destination