Depending on where you are looking to rent in Italy, it will be very difficult or very easy to find a living space. In Italy's beautiful cities—Milan, Florence, Rome—homes can be difficult to find and you will have better luck searching outside of the city, where you will also get more space for a lower price. Milan, in recent years, has become overcrowded due to it being the city with the most opportunity: not only does it include the best university for law and economics, but many major international companies are headquartered or maintain offices there.
Finding a House in Italy
The first step, of course, is figuring out where you would like to live. Italy's regions are all very different from each other due to their long history. There are plenty of resources online for browsing and comparing homes, villas, apartments, and so on, but it is never wise to only go by what you see online. If you are serious about purchasing a home in Italy then it is a necessity to see the home in person, otherwise, you run the risk of encountering any number of problems after closing a deal from abroad. It is not something to be done on a whim.
Renting a House in Italy
Renting in Italy, whether it's an apartment or a house is very different, especially if you are coming from the United States. If you want to rent a house in Italy, you must have your contract registered for it to be considered a legally binding contract. If the owner or seller of the property tells you this is not necessary, then you might want to start looking at another property. Only rentals under 30 days do not need to be registered. For the contract to be considered registered and legal, either you or the owner have to send a copy to the Italian tax authorities (the Agenzia delle Entrate). You can do this electronically or by visiting the office in person, and—of course— paying the related taxes.
Rent to Buy in Italy
This is an interesting option, if the seller agrees to it. Rent to buy is just as its name suggests, you and the seller agree upon a price to be paid monthly, at the end of which the renter becomes the new owner of the property. If you wish to learn more about this option, you can consult our full article "Rent to Buy in Italy" which covers the topic more in-depth.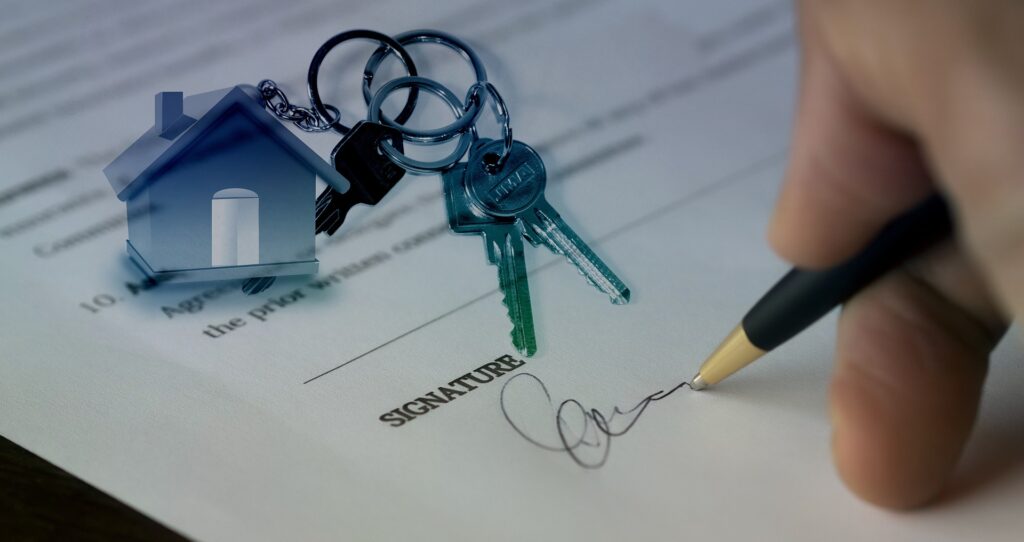 The Rental Market in Italy
Italy's housing market remains steady. It was almost entirely unaffected during the pandemic-induced recession. In reality, prices actually increased nationwide by about 1.6% to average a little over €1,700 per square meter. Depending on your budget, it may be a good idea to avoid looking at the popular cities and instead opting for the suburbs or nearby towns where you get more for what you pay. We can compare Venice, Italy's most expensive city where the average price is about €4,000 per square meter (Milan and Rome are not far behind that price), with Catania, a major city in Sicily where the average price is about €1,200 per square meter for a house.
Types of Housing Contracts in Italy
There are three main types of contracts plus a few subtypes, but the type of contract to be used should be agreed upon by the parties involved.
If you are an expat, the most common type of contract you will run into is the "Free Market" contract. Their duration is "4+4," meaning that contract is valid for four years and will automatically renew for the next four years. As its name suggests, each of the parties involved have more flexibility in determining the contract's details and fine print. Tenants are able to give notice of their wish to leave before that date, but this should be done, legally, about 6 months beforehand.
The second kind of housing contract is called an "established" contract and there are three subtypes, including: affordable housing, short-term rentals, and student rentals. Contracts of this kind offer tax breaks or some other economic incentives for both the owner and/or the renter.
The last type is called a "loaner" contract, which basically states that the owner of the property is granting you the right to use their property for a pre-established period of time, either for very low cost or for free, usually.
Down Payments and Security Deposits
It is not uncommon for landlords to ask for an employment contract, a bank statement, or references. Why? They want you to prove you have the financial stability to afford the home you want to rent or purchase. If you are from the United States, you might be wondering about those oft-dreaded "credit scores," but they do not exist in Italy. Additionally, it is extremely difficult to remove a tenant in Italy once they've moved in; it is a process that can sometimes take years to settle. For this reason, property owners try to be very careful about who they rent to. Landlords can, and often do, ask for three months of rent in advance (this is normal), and three months worth as a deposit, usually for long-term rentals. Like many things in Italy, the amounts are negotiable and may generally depend on your rapport with the landlord or any number of other factors.
Are you interested in this topic? Then check our related articles: Non-rented property: IMU and IRPEF rules, Renovating a House in Italy, Why Italy is your next destination and RENTAL CONTRACTS IN ITALY: TYPES AND OPTIONS.
About Post Author